Success and innovation at Chemistry Means Business
Royal Society of Chemistry Stand B20 1st November 2018
Chemistry Means Business, a showcase of success and innovation in the sector across the UK and Europe, took place at the Queen Elizabeth II Conference Centre in Westminster on 15 October, complete with sweeping views of the Houses of Parliament and the London Eye.
The focus of the event was our Emerging Technologies Competition final, in which 39 candidates – from a mixture of start-ups, SMEs and university research spin-outs – pitched their ideas to panels of experts in a 'Dragon's Den' style competition.
Ideas had to fit into one of four categories, Food and Drink, Materials and Enabling Technology, Energy and the Environment and Health.
This year's winners were:
HexagonFab, a spin-off from the University of Cambridge
Smartwound, from the University of Bath
AquAffirm Ltd
Oxford Biotrans
Micropore Technologies
University of Birmingham
Oxford nanoSystems Ltd
Aqualution Systems Ltd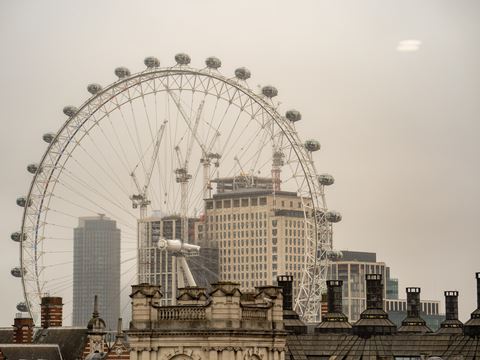 A fantastic springboard
Head of industry Aurora Antemir said: "The Emerging Technologies Competition is a celebration of chemistry's contribution to our rapidly changing world – and a terrific showcase for some of the SMEs working at the cutting edge of science.
"Winning is no mean feat, with an extremely competitive field in each category. Our winners have demonstrated tremendous skill and an ability to find solutions to problems that will change the way we will all live our lives in years to come."
Each winner will receive tailored business support from the competition's multinational partner companies, as well as business training and media support – in addition to a cash prize of £10,000.
Previous winners have gone on to raise a combined £31m in investment and grant funding, collectively doubled employee numbers and attracted licence deals and significant international expansion. Some have gone on to be acquired, with winners securing trade sales of £28million, while previous 'One to Watch' winner, Ziylo, was recently acquired in a £623million deal.
Aurora continued: "Chemistry Means Business brings SMEs, start-ups and academic entrepreneurs together with the major and multinational companies that can take their ideas and innovations to the next level.
"This competition has proven to be a fantastic springboard for entrepreneurial ideas and have helped countless SMEs make the leap from lab to market – so we're looking forward to seeing what our winners, and indeed all those shortlisted, will achieve in future."
A great deal of the competition's success is owed to its partners, chemistry-using multinationals who share a passion for innovation and collaboration. They provide support to winners in a number of ways, including strategy reviews, product testing, and introducing them to new networks.
Networking, building contacts
Aside from the competition, the event as a whole was an opportunity for those working across the chemicals-using industry to come together, network, exchange ideas and hear from some world-class speakers.
"One of the best things about this has been the opportunity to network", said Antony Murphy, Chief Technical Officer at Causeway Sensors, one of the finalists. "Before we came here we had set up six meetings with people in the industry and we're getting lots of insights on how to do our technology better."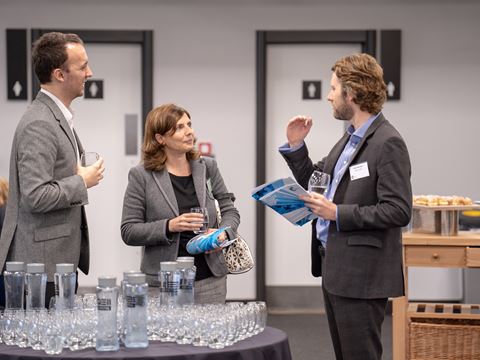 A glimpse of the future
The event opened with a welcome from Royal Society of Chemistry deputy chief executive Helen Pain, who spoke about the important of cultivating partnerships and bringing together people from different specialisms and backgrounds. "Science is a global endeavour, for which international collaboration is essential", she said.
Helen was followed by Sophie Hackford, whose job title is 'Futurist', and who gave a fascinating keynote speech on three emerging types of technology: gene sequencing, artificial intelligence, and quantum computing.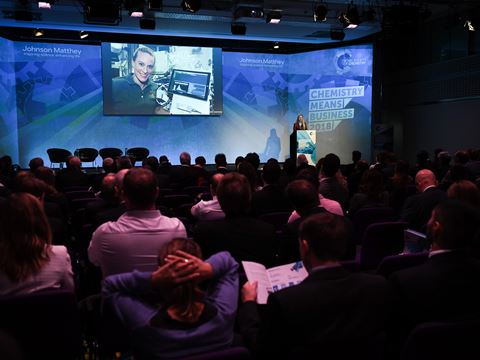 She spoke about how gene sequencing could be used in future to more quickly stem pandemics such as Ebola, and addressed the ethical dilemmas associated with development of artificial intelligence (AI). For example she described a scenario where data collected on us could be used to create a 'digital double' – an AI who embodies all our preferences and habits, and who could do business on our behalf, for example haggling for products, selecting books to read, or even going on dates. This raises questions like "Who owns your AI?" and "Does it have rights?"
Inclusion, diversity, and Brexit
Two panel discussions, at the beginning and end of the day, provided an opportunity to explore key issues affecting not just the chemical sciences industry, but everyone.
The first panel was entitled "Working to harness diversity for innovation" and the second "Innovation after Brexit". Both panels comprised speakers who are leaders in their fields, and who answered questions from the audience such as "What should I say to my customers in Spain who are asking why they should continue to do business with me after Brexit?"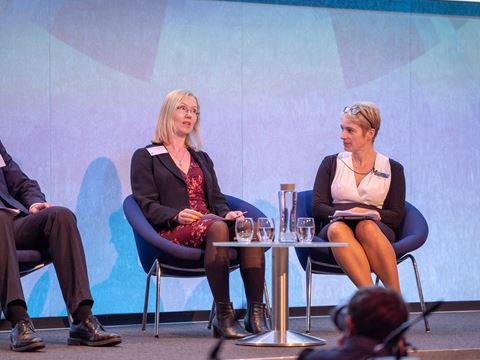 Awards evening
A glittering awards night, comprising a drinks reception and a three-course sit-down dinner, brought the day to a close. The night was hosted by our president Dame Carol Robinson, and comedian and presenter Robin Ince.
During the course of the evening the eight winners of the Emerging Technologies Competition were announced. The seven winners of the Royal Society of Chemistry Industry Prizes & Awards were also presented with their medals and certificates. Find out details of all our prizes and awards winners in our announcement piece.